Hello, I am Debbie and this is my husband Rick. Horses have always been a big part of our life. We enjoy the stable, it lets us work with our good friends and family. It also gives us the opportunity to meet fun people like yourself. I'm sure that you will love our stable and have a great time riding in the great outdoors and playing with all of our critters and horses.
Hello, my name is "Grandma". I'm out at the stable every day making sure the flowers are beautiful, and the grounds are up to par. I make sure everyone is keeping up with their chores, and help out were and when I can.
Hi, my name is Katie and this is my stallion Romeo with me. I have been around horses my whole life. I do a number of things with these wonderful animals such as: Trail ride, train, drive our team of draft horses, show in western pleasure, English, halter, and all the gaming events. I am certified in CPR and first aid (just in case). I hope you get the chance to come out and meet all of the wonderful people and animals here at the stable. We would love to give you a wonderful memorable trail ride.
Hello, my name is Rambo. I am a five year old Rottweiler and I have been around horses my whole life. My job is not to take you out on a trail ride, but to round up all the horses morning and night, and sort them all out in the corral area, making sure they are doing what they need to do, and staying out of trouble. I love my job and the stable, hope to see you out there.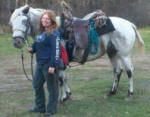 Hi, my name is Bonnie. I've been riding horses since I was 10 years old. I personally own 2 horses, Taz and Marriah. I adore horses and love having the opportunity to be around them as much as I am. There's always something new and fun to learn out at the stable. I always enjoy sharing my knowledge of horses with other people and helping them experience the world around these beautiful equine. I'm CPR and First Aid certified; which helps me to be prepared for whatever may happen out on the trail. My goal is for everyone to have a fun and memorable experience.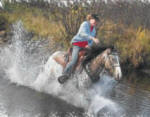 My name is Becky. I board my Appaloosa, Shasta, at Pine River Stable. We are learning together to work as a team. I look forward to the trail rides at the stable that many people enjoy. I am CPR and First Aid certified. I take pleasure in going out on rides with both kids and adults. Horseback riding is truly fun for all ages.
Hi, my name is Sam. I have been around horses all my life and have been riding since I was three. I personally own one, although I have six at my house. My favorite horse that I own is Danny, he's a sorrel quarter horse and I use him a lot for him guide horse, but I also help out with the new horses. I am CPR and First Aid certified. I love working with horses and being around them. My goal in the summer is to give everyone an awesome and enjoyable time.
Hi, my name is Emma. I own one horse named Smokey and he's a greyed out appaloosa. I have known my horse since I was about three because my aunt used to own him and he stole my heart at a very young age. I am CPR and First Aid certified. I have been in love with horses since day one and I love working here. One of my main goals while working is too make sure everyone has an enjoyable time while staying safe. I hope to see ya this summer!
Hello, I am Jess and this is my horse Fancy. I am 14 years old and this will be my 4th year working here. I am CPR and First Aid certified. I am in 4-H and compete in all Gaming events, Halter, and Western Pleasure. I own 3 horses, Fancy, Missy, and Missy's baby Puzzles. I hope you have as much fun as I do riding here!! Hope to see you soon.